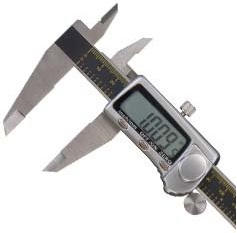 The Carrera Precision CP8808-T 8 Inch Titanium caliper is the slightly larger version of the CP8806-T. It is a solidly constructed caliper that features a titanium frame protecting the large LCD screen that provides easy to read numbers. The caliper body is made of stainless steel to provide you with an instrument that is not only precise in its readings but also very solidly built.
The titanium screen casing makes this an instrument that is suited for professional use because it will withstand the rigors that come with daily use. You can be confident in your inside, outside, step and depth measurements up to a maximum reading of 8 inches.
Find more information about the Carrera Precision CP8808-T including the many reviews that have been written about customers who have experienced the caliper first hand.
Buy A Carrera Precision CP8808-T Caliper
This caliper if fitted with an extra-large digital LCD screen that has been protected by a titanium alloy head. It has a metric conversion and zero button and a thumb wheel that allows the setting to be adjusted very easily with the use of one hand.
The zero button on the device llows you to zero the measurement at any position and this means that the tolerance of the measurement may be taken in the positive or the negative.
When you buy the Carrera Precision CP8808-T 8 Inch Caliper you will be getting the caliper, an extra battery, a mini screwdriver and a storage case that will supply it with a perfectly fitting container that will protect it when it's not in use.
Technical Data
Range: 0 – 8 inches
Accuracy: 0.001inch
Resolution: 0.01mm/0.0005in